Merry Christmas and Happy Hanukkah
Christmas and Hanukkah are both beautiful holidays bringing together family and friends, dinners and parties, rejoicing and faith. They both offer a great opportunity to do some serious shopping and get some great bargains. They both are all about presents and gifts, home decorations and some wonderful family recipe holiday cooking.
Happy Hanukkah and Merry Christmas greetings are rooted in religion and steeped with tradition. It is a wonderful, glittery, hopefully happy time of the year and many families enjoy celebrating both holidays!
Families today are no longer only traditionally one religion, one color or one ethnicity. Today more than ever people are free to love who they choose and not just have to stay within the traditional values of someone of their own "kind". Years ago, many young people were disowned or outcast from their families if they chose to marry or raise their children different than their birth heritage.
Interfaith families are no longer rare and no longer taboo. Some families choose one of the religions to raise their children in, some parents choose to expose their children to both religions and let them learn and enjoy the teachings and holidays of both Chanukah and Christmas.
Families who celebrate both religions get to decorate beautiful Christmas Trees, light bright, shiny Menorahs and respect the miracles of both religions that are so different and yet so similar. Miracles of life, standing up for what you believe in, protecting and nurturing family and friends. Believing and having faith in believing.
Decorating for Christmas and Hanukkah Holidays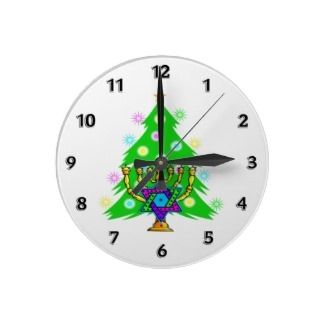 Decorating is almost the best part of the holiday season so why not dress up the whole house with Christmas Trees, Hanukkah Menorahs, Stars and Lights and decorations for every room in the house!
When it's time to decorate for the holidays, enjoy the fun of both traditions and deck the halls with everything for the family.
Holiday Greetings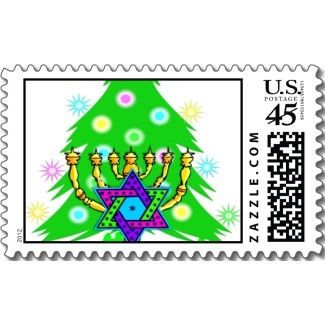 Sending Christmas and Chanukah greetings to families who celebrate both holidays is even easier than ever now. I mean you always could send Season's Greetings and A Happy New Year, or you can send cards and gifts that feature the traditional symbols personalized for family and friends.
Christmas and Hanukkah Together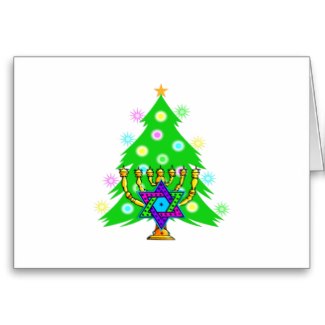 Hanukkah Christmas Ornaments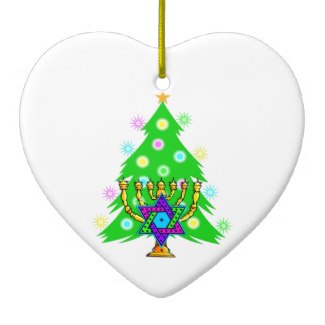 Decorate your Christmas tree with Hanukkah ornaments and super symbols of the holidays. Personalize with names, dates and special messages for an affectionate touch.
Hanukkah Christmas Stockings
Christmas stockings are so much for adults and for little ones. Who doesn't love the goodies inside whether it is Hanukkah gelt (chocolate coins in gold foil) or Christmas stocking stuffers - small gifts that are just fun and all about family and joy.
Christmas Lights....For Hanukkah!
Who doesn't love decorating their house with Christmas lights! Strings of lights twinkling, greeting and welcoming the holiday spirits. Some people love colors, some icy white. Lights outside the house, around the windows, hanging from the roof and the trees and the bushes. Christmas lights inside the home. Whether you live in a mansion, a trailer, a private home or small apartment there is always lots of room for Christmas decorations especially beautiful lights.
Now you can add some fun Hanukkah glow to your Christmas lights with light stings of dreidels, Menorahs that glow and decorations that will really show off your family love of both holidays.
Hanukkah and Christmas Jewelry
We love to show pride in our heritage and now interfaith families don't have to choose between wearing a Jewish Star or a Religious Cross, or nothing at all, they can choose from some of these great Cross and Star of David necklaces, charms, rings and pins.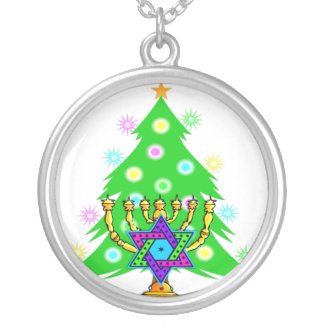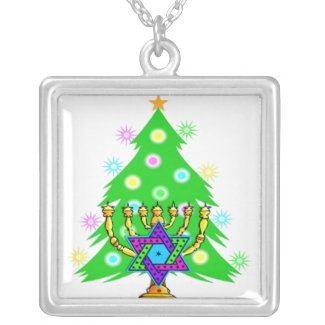 Great gift idea for the holiday season, one present fits all!